CHAKLO – VELAYRN (BOARD – ROLLING PIN) 

Chaklo refers to is a circular flat marble / wooden elevated board.
Velayrn is a wooden / stainless steel rolling pin. It is long and cylindrical in shape. It has handles or tapered edges at each end.
 Chaklo-Velayrn is used for rolling dough to make various Breads.
—
CHAKU (KNIFE)
Chaku is the common term used for all types of Knives.
—
CHARANI (STRAINER)
Charani is a general term used for strainers of all sizes.
A Chai ji Charani a type of strainer that is placed over or in a teacup to catch loose tea leaves. (first image above).
An Attay ji Charani (second image above) is a flour strainer. Bhatias tend to make breads like Phulko, Paratho etc. from scratch which requires the dough to be smooth.
To ensure it is clump-free, the flour is passed through an Attay ji Charani.
An Attay ji Charani has a fine mesh set in a frame with a tall metal rim.
—
CHIMTO (HORIZONTAL TONG)
Chimto is a pair of horizontal Tongs with pointed or flared tips.
It is usually made of iron or stainless steel.
A Chimto is an ideal equipment for roasting a food item on a direct flame (for example – Pappad, Phulko)
It is also used for the service of Rotis.
—
HAMMAM – DASTO (MORTAR – PESTLE)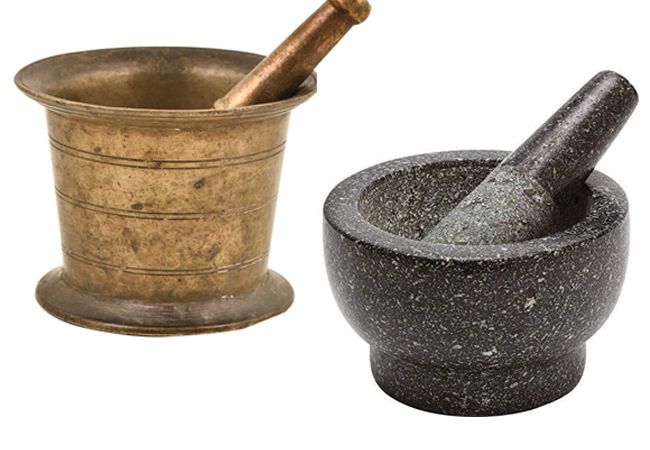 Hammam – Dasto is a Mortar – Pestle set, usually made of Brass, Iron or Stainless Steel.
A Hammam – Dasto is used for pounding spices but is rapidly being replaced in the modern kitchen with a Mixer/Grinder.
—
JHARAN (LARGE PERFORATED FRYING SPOON)


Jharan is the general term for a perforated frying spoon with a long handle.
A Jharan is heavier compared to a Kanch and is available in various sizes and shapes of perforation.
The names of the Jharan depends on the shape of the perforation and the snack it is being used for to prepare for example – Besan jo Jharan, Fafriyan jo Jharan etc.
A Jharan is used mainly to make savories like Besan, Moti Channa, Fafria, etc.
—
KADAI  (FRYING VESSEL)
A Kadai is a Deep frying vessel similar to a Chinese Wok.
It is a bowl shaped pan with two handles on either side.
Traditionally, it is made of cast iron which is called Lo ji Kadai by the Bhatias but the Stainless steel variety is more popular now-a-days.
A Kadai is an all purpose vessel used for frying of any sort ( Deep Frying, Shallow Frying, Stir Frying)  and even sautéing.
Certain Bhatia curries are cooked in Lo ji Kadai like Osan. Cooking in a Lo ji Kadai not only adds iron content to the curry but also makes the dish darker in color.
—
KUNCH (PERFORATED METAL LADLE)
Kunch is a perforated metal spoon, usually round in shape.
 It is usually on the lighter side as compared to Jharans.
A Kunch is mainly used for flipping items being fried to ensure even browning and  for removing fried items from a Kadai.
—
KEVAI (LONG ROUND SPOON)
A Kevai  is a round spoon with a long handle and a hollow base.
A Kevai is used for stirring curries and is also used in the process of tempering.
—
KHARRAR (SMALL MORTAR – PESTLE)
A Kharrar is a boat shaped mortar – pestle.
The common varieties of Kharrar are usually made of black stone or marble.
Kharrar is used for manually grinding small quantities of spices or saffron.
—
 KHURPI  (FLAT SPATULA)
Khurpi refers to a flat spoon.
Khurpis made from iron used to be quite popular earlier but a majority of Bhatias now use Khurpis made from stainless steel.
It is mainly used for flipping / turning items like Parathas / Garari.
—
MANDIRO (WOODEN CHRUNER)
A Mandiro is a Bhatia  version of an Egg -Beater.
A Mandiro is a long wooden stick with a star shaped base, mostly used for churning curds.
The larger varieties, which are used in villages have a rope tied along the wooden stick, which had to be pulled to & fro by two persons in order to churn.
A Mandiro has been replaced in the modern kitchen with the electric mixer.
—
MASALAY JO DHABBO
(BOX OF SMALL BOWLS FOR SPICES)
Bhatia cooking requires a variety of spices and herbs in each dish, not just one or two.
A Masalay jo Dhabbo is a container box of small bowls with a tiny spoon for each bowl.
It is used for storing the most commonly used spices in the kitchen.
This makes it easier at the time of cooking as one does not have to individually open each spice container.
—
PAAT (FLOUR MIXING UTENSIL)
A Paat is the utensil in which flour is mixed and kneaded to make a dough.
A Paat is usually made of Stainless steel, it has a Flat base with sides slanted outwards.
—
PAKKAR (TONG)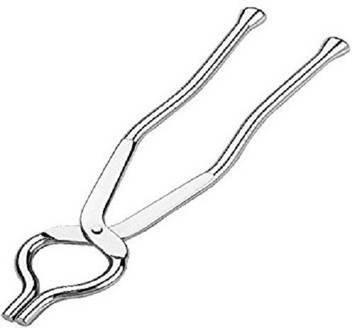 Pakkar in the Bhatia language means 'to catch' and this is exactly what this equipment does.
Pakkar is a vertical tong used for holding Kadais, Tawas, Toaps etc.
—
PARRAN (FLAT COLANDER)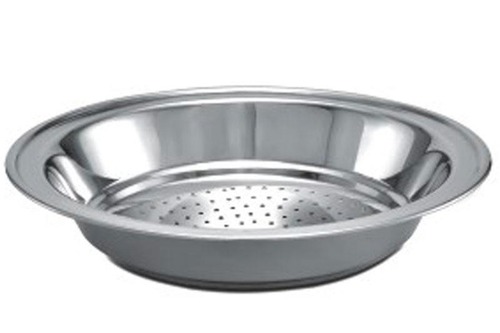 Parran refers to a flat colander with a horizontal rim.
Parran is used for washing food or emptying food into when it has been cooked in water.
It is also used to steam food items like Muthias.
—
REKABI  (LID)
Rekabi is a general term used for all sizes of lids for covering pots and pans.
They are mostly made of stainless steel.
—
TAWA (IRON GRIDDLE)

Tawa is an Iron Griddle.
A Tawa is circular and can be flat or slightly concave in shape. It distributes heat evenly from the centre to the edges.
It is used for roasting Breads like Phulko, Koki and snacks like Garari etc.
—
TOAP (COOKING POT)

Toap

refers to a cooking pot.
Traditionally made of Brass or Copper, it is now days replaced by the Stainless Steel varieties.
Toaps are available in various shapes and sizes with a flat or a rounded base. It has straight sides with a horizontal rim.
—
Check out the video for Essential Kitchen Equipment required to cook Bhatia food on the following link
–