MIRCHI JO SAAG
(Green Chilli Mix)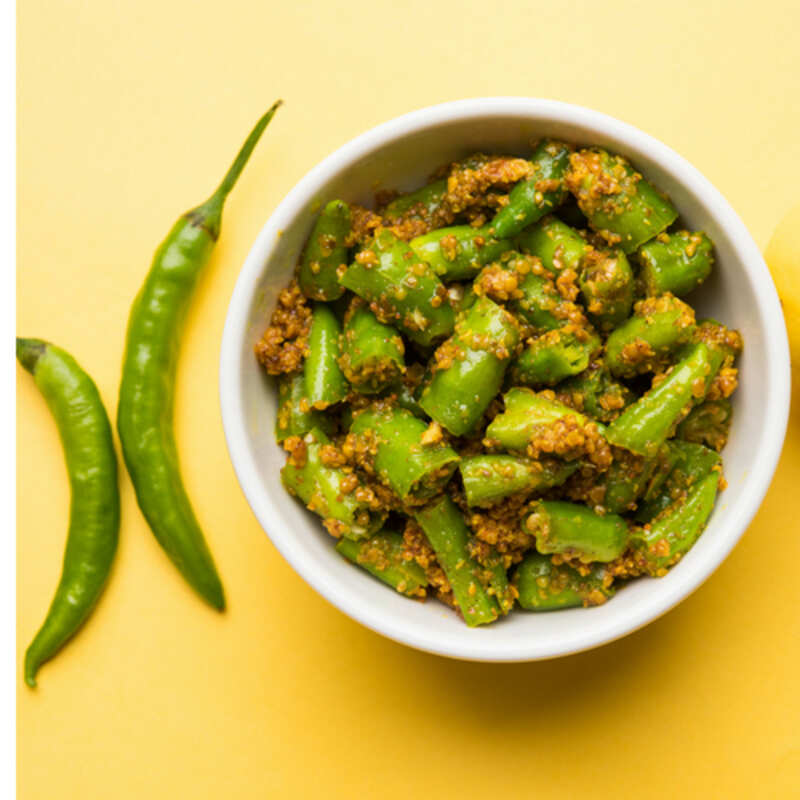 In

g

redients
Green chillies – 100 gms.
Oil – ½ cup
Coriander cumin powder – 1 tsp.
Cumin seeds – 1 tsp.
Asafoetida – pinch
Salt – to taste
Sugar – ½ cup
Turmeric powder – ½ tsp.
Pomegranate seeds – 1 tblsp. (finely powdered)
Gram flour – ½ cup
Water – 1 cup
Method
Cut the green chillies into small pieces.

In a deep pan, heat the oil on a medium flame. When hot, add the cumin seeds, coriander-cumin powder, asafoetida and chopped green chillies. Keep stirring continuously for around 1 minute till the chillies get fried. Add a little water and cover the pan for about 2 minutes.

In a separate bowl, take the gram flour. Add salt, sugar, turmeric powder and powdered pomegranate seeds. Mix well and add enough water to make a thick batter.

Remove the cover from the pan in which the chillies were being cooked. The colour of the chillies would have changed. Add the gram flour batter to this. Mix well and cook till the mixture starts leaving the sides of the pan.

Reduce the heat of the flame and allow the mixture to simmer for a few minutes.

Remove from the flame and allow it to cool. It is ready to be served.
To serve
Mirchi jo Saag is used as a dip and is a good substitute for any chutney, pickle or even vegetable. It has a shelf life of 7 – 8 days. It can be taken when going in for long outings or picnics.
Variation
Green chillies used as the main ingredient can be replaced with any chilli of one's personal choice depending on the level of spice.
Pomegranate seeds can be replaced with Mango powder, Tamarind pulp or lemon juice, depending on personal preference and availability.