TAMATAY JI KADI
(Tomato Curry)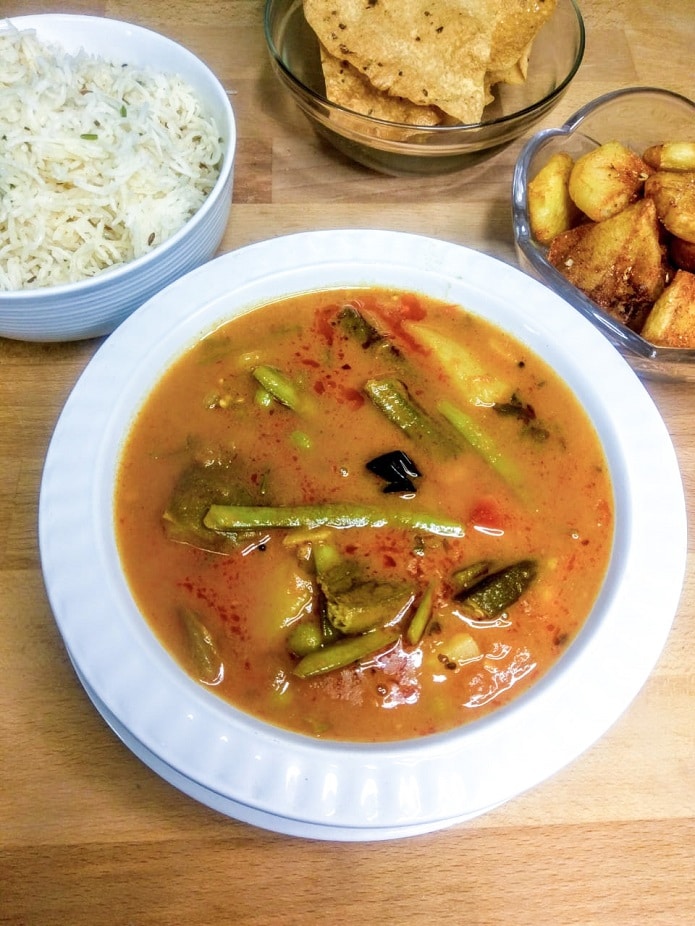 Ingredients
Tomatoes – 1 kg.
Potatoes – 2 nos. (medium sized)
Carrots – 2 nos.
Cluster beans – 10 gms.
Lady finger – 6 – 7 pcs.
Gram flour – 2 – 3 tblsp.
Ginger – 1″ piece
Curry leaves (leaves only)- 2 sprigs
Green chillies – 3 nos.
Cumin seeds – ½ tsp.
Red chilli powder – ¾ tsp.
Turmeric powder – ¾ tsp.
Asafoetida – pinch
Oil – 3 tblsp.
Salt – to taste
Coriander leaves (for garnish) – 1 tblsp.
Method
Cut all the tomatoes into big pieces. Place these cut pieces along with 4 cups of water in a toap to boil. When the water starts boiling, reduce the heat to a medium flame and cook for ½ hour.

Remove the boiled tomatoes and let it cool. Make a puree of the boiled tomatoes and pass it through a sieve. Keep this tomato water aside.

In a separate deep pan, heat the oil on a medium flame. When hot, add cumin seeds, asafoetida, gram flour and stir continuously. Fry till the gram flour turns light brown in colour.

Add to this the tomato water, chopped green chillies, chopped ginger, red chilli powder, curry leaves, turmeric powder and salt. Start boiling the mixture.

When the above mixture starts boiling, add all the vegetables (chopped into pieces) and cook the curry on a medium flame.

Cook till the vegetables become tender. In case if the curry has become thick in consistency before the vegetables are cooked, add some water.

When ready, garnish with finely chopped coriander leaves and serve piping hot.
To serve
Tamatay ji Kadi goes well with Choka or can also be served with Chiblaro.
It can also be eaten at dinner with Phulko.